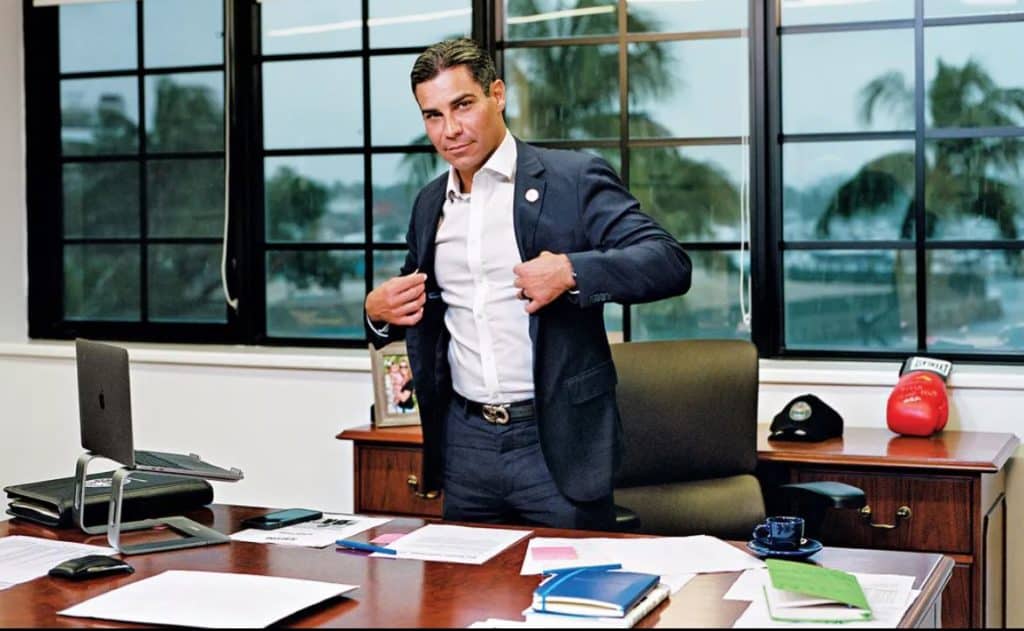 Silicon Valley's favorite politician, Miami mayor Francis Suarez, has many lures to dangle when he's wooing techies to relocate to his city. There's the old sugar: low taxes and the Florida sun. As I sat across from him in his office at city hall on a recent afternoon, Suarez was telling a Zoom grid of fellow mayors that the view behind him — a vista of swaying palms, rocking boats, and gleaming water — was "not a virtual background." The traditional charms have only been amplified in the COVID era: If you can work from anywhere, why not go where you can afford a better house for less, where you can be outside 365 days a year, where your favorite restaurants are opening outposts, where you don't feel judged for your hustle?
It took a tweet, though, to ignite what Suarez calls "the Miami movement." On December 4, Delian Asparouhov, a venture capitalist in San Francisco, posted, "ok guys hear me out, what if we move silicon valley to Miami," and Suarez, lying in bed at home in Coconut Grove,
replied
, "How can I help?" Those four words got more than 2.7 million impressions. Ever since, Suarez has been on a mission to rebrand Miami — long a place to spend money, rather than earn it — as a haven for founders who feel underappreciated in more calcified urban climes. He bought (with money from a venture capitalist) billboards in San Francisco featuring his Twitter handle and an invitation to "DM me." As he put it, "I saw the tsunami coming, got out my surfboard, and started paddling."
The flood of new Miamians
who have arrived, full or part time, during the pandemic includes tech investors (Peter Thiel, David Sacks), cryptocurrency bulls (Anthony Pompliano, Ari Paul), new-media tycoons (Bryan Goldberg, Dave Portnoy), start-up founders (Alexandra Wilkis Wilson, Steven Galanis), and many more who aren't yet billionaires but think the Magic City will give them their best shot. They're breaking sales records for dock-accessed mansions by day and packing the
new branches of Carbone
and Red Rooster by night. The boom is visible in the city's crane-spiked skyline, too, with deals for Spotify, Microsoft, Apple, and TikTok either signed or in the offing. In greater South Florida, a related incursion by the finance industry — Goldman Sachs, Citadel, Elliott — is in full swing.
Wall Street may not be quaking over Miami's ascendancy, but in the zero-sum game among cities, San Francisco is indisputably feeling some pain. In July, according to Redfin, Miami was the top migration destination for home buyers in the U.S., while San Francisco had the largest homeowner exodus. Suarez told me about a playful text he recently received from the mayor there, London Breed: "Stop stealing my techies." He says he replied, "Sorry, London, I love you, but no."
Already, Suarez has made gains in turning Miami into the most cryptocurrency-friendly city in the U.S. In the past six months, the world's largest bitcoin conference happened here; a crypto exchange called FTX paid $135 million for the naming rights to the NBA arena (edging out the hometown porn studio BangBros); and a city-sanctioned currency called MiamiCoin debuted, generating millions in fees for municipal coffers. Suarez also accepts campaign contributions in bitcoin. He's running for reelection this November and looks certain to win, thanks in part to hefty donations and cheerleading from Silicon Valley eminences. One of them, the crypto evangelist Balaji Srinivasan, has hailed Suarez as the "first of his kind, the first CEO of the city," responsible for the Miami movement reaching "escape velocity."
Convinced that this surge will last — that it will differ from so many earlier cycles of Floridian boom-and-bust transience dating back to the land rush of the 1920s — Suarez has ready answers for what he calls the "counter-narratives" about his city's trajectory.
Won't all these fair-weather arrivistes go poof when the summer heat hits?
Suarez notes that the bitcoin conference was in June and was so popular that $300 hotel rooms went for $1,200.
Won't melting ice caps turn Miami into a swimming pool?
"A lot of people don't know that New York has actually suffered more
hurricane
damage
than Miami in the last ten years," he says.
For all his enthusiasm, Suarez acknowledges that a robust tech ecosystem needs one thing he can't simply market into existence: a standout university. (As a Florida expat told me, "It's hard to find a company that grew to be worth more than $100 billion that wasn't started within a bike ride of a world-class engineering department.") To remedy this lack, Suarez, wearing a dark suit and patriotically striped tie, was at his desk one recent afternoon Zoom-pitching Randy Avent, the inaugural president of Florida Polytechnic University, a seven-year-old institution set in the soggy flatlands between Tampa and Orlando.
"No matter how good the MITs and Harvards are," Suarez said to Avent, "what is the DeFi school or the crypto school? What is the blockchain school? I think there's a huge opportunity there, and it's an opportunity I don't know has happened very often in the history of education. So I might want to explore with you the possibility of you creating a satellite campus here in Miami." The city, Suarez suggested, could offer FPU some of its most valuable resource: land.
"One of the great things about a new university like us is that we can think top down," Avent said, speaking with a Carolina drawl that belied the 20 years he had spent at MIT. In previous jobs, he said, he had encountered institutional gridlock. He seemed to be warming to Suarez's proposal.
"I think the university class is getting it," Suarez continued, referring to his prior efforts to convince a big-name program (Stanford? Technion?) to expand to Miami. "But I'm not sure they're getting it with the same sense of urgency I'm feeling."
Avent started spitballing technologies an FPU Miami might focus on, like autonomous vehicles, and Suarez smoothly steered the conversation back to the blockchain. "Like, I'm growing up, I'm a young man, I want to go into NFTs," he said. "What's the school I go to?" He throttled up his pitch: "I don't think I've offered this to any of the other universities, 'cause it seems like you may be nimble and smart enough to take advantage of it — and small enough, in that obviously it's not going to be 100 acres."
He and Avent agreed to schedule a Miami visit soon to talk about specific land parcels. "I'm a very impatient person," Suarez added, and he and Avent shared a laugh.
After Suarez ended the meeting, I asked where Florida Polytechnic is.
"Lakeland."
Where's that? He smiled.
"The middle of nowhere."
Source: https://nymag.com/intelligencer/2021/09/how-miami-seduced-silicon-valley.html